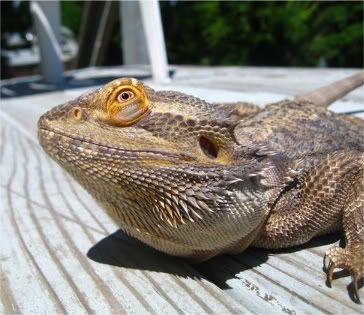 Be Bop is a three legged
Bearded Dragon
I adopted. He came in to my job underweight, in a cramped 10 gallon tank, and with the beginning stages of metabolic bone disease. His two, yes two, previous owners claimed he was aggressive. I have never met a mean Beardie in my life. Needless to say I brought him home.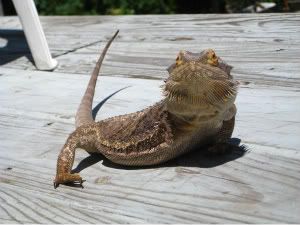 The lizard was dubbed Be Bop because in order to propel himself he has to bop up and down to gain momentum. He's missing his front left leg, which makes walking very difficult for him. Because he was housed in an inadiquate enclosure and didn't recieve proper nutrition with calcium supplements and UBV lighting his remaining three legs are sligtly bowed and don't have the muscular development you would normally see in an adult Beardie.
Be Bop now lives in a 40 gallon breeder (I would house him in at least a 55 if he were able to get around better). He gets proper heating and UBV lighting. Be Bop gets a diet of dark leafy greens, veggies and some fruits. The foods he likes the most are his bugs. Be Bop lives off of several different types of worms and the occasional cricket. He also gets calcium supplemented into his diet several times weekly.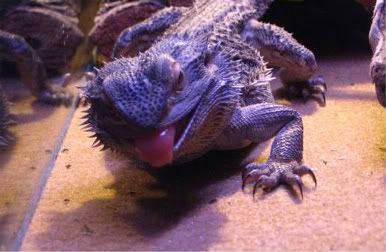 He is a happy lizard who loves to bop aroundt the house and balcony in the company of his best furry friend Toby.